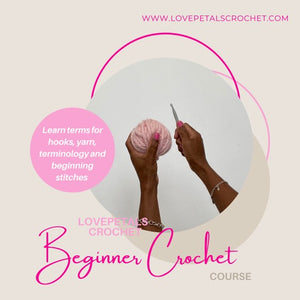 Beginner's Crochet Course - (4) four weeks
The class is available in person or via zoom. It can be taken in a group setting or privately. The class includes access to Lovepetals Makers Group via Facebook for questions, tips and occasional free patterns.
You will learn how to hold the crochet hook and yarn, the tools needed for most projects, the different variations of yarn, yarn weights and hooks, and the beginner stitches to begin any project.  You will also learn the terminology and abbreviations for each term.
You will (according to your capabilities) complete the class with a beginner potholder and/or face cloth.
Once the class request is submitted you will receive an email regarding the requested dates.  If the requested dates and times are not available you will be given dates and times of availability to choose from.
*  The first class must be scheduled within 2 weeks of purchase. (unless the dates are not available)
*  Each class should be scheduled in 4 consecutive weeks.
*  Cancellations must be made 24 hours in advance via email or text. If no cancellation the class is forfeited.   NO EXCEPTIONS. 
* Rescheduling of class is permitted for 2 sessions ONLY.